All our guest rooms & suites are non-smoking. We are pet friendly for small dogs at our discretion (fee applies).

Every guest room has air conditioning and picture windows with lovely waterfront views of Thomas Pond. Free use of our canoe & paddleboat. Most accommodations have free hi-speed internet access.

The Sebago Lakes region is a prime summer tourism area in Maine, so please reserve at least 30-90 days in advance during peak summer periods to ensure availability.

Rates are higher during certain peak periods in the Sebago Lakes area, such as the Winter Ice Fishing Derby and Summer Parents Visiting Days. We do offer a 10% discount on stays of 5 days or more. Rates are subject to change.


---
Room #1: Option #1: The King Room, Non-Smoking: Our most impressive deluxe room for 2. One king sized bed in a very large room w/pine panelling and light green furniture accents, pine table and 2 pine chairs, velour swivel chair for relaxing, newly installed double sized picture window for perfect views of Thomas Pond, 19" Color Cable TV w/remote, Central Air Conditioning that will keep you as "chilly" as you want, (this is the only room that has this), large executive bath w/shower and oversized mirror, china sink, plenty of bathroom counter space, microwave, coffee maker w/coffee supplies, and apt.sized fridge (pictured below). Prices:

$95/night Nov/Dec/Jan/Feb/Mar
$95/night midweek, $105/night weekends April
$99/night midweek, $125/weekends May/Oct
$109/night midweek Jun/Sept
$195/night midweek July/August

(Click Photos to Enlarge)
---
Room #1: Option #2: The King Suite, Non-Smoking: If you liked the King Room but you need accommodations for more, then the King Suite is a perfect choice for your family! This is the King Room,(as described above) adjoining to another large pine panelled bedroom with 2 double beds, table & 2 chairs, also with Central A/C, 19" color cable TV plus a VCR w/remote, (total TV's 2 when taking the suite) and another contemporary private bath with shower.(total 2 bedrooms/2 baths) Sleeps 2 adults/4 children or 4 adults (pictured below). Prices:

$160/night Nov/Dec/Jan/Feb/Mar
$160/night midweek, $175/night weekends April
$185/night midweek, $209/night weekends May/Oct
$225/night midweek, $250/weekends/night June/Sept
$260/night midweek, $285/weekends/night July/Aug

(Click Photos to Enlarge)
---
Room #2: The Queen Suite, Non-Smoking: Treat your family like royalty in our newly remodelled Queen Suite! This nicely decorated 2 bedroom suite, has 1 queen sized bed in each bedroom, with a kitchen area that separates the bedrooms, for added privacy. The kitchen area includes a microwave, apt sized fridge, bar sink, countertops and cabinets, coffee maker w/coffee supplies, newly remodelled private bath w/tub, A/C, picture window, 2 19" Color Cable TV's w/remotes (1 in each bedroom), and a small private back tiled sunroom w/sliding screen/glass door for also enjoying the cool summer evening breezes!,sleeps 2 adults/2 children (pictured below). Prices:

$125/night Nov/Dec/Jan/Feb/Mar
$125/night midweek, $135/night weekends April
$160/night midweek, $185/night weekends May/Oct
$185/night midweek, $209/night weekends June/Sept
$209/night midweek, $235/night weekends July/Aug

(Click Photos to Enlarge)
---
Room #3: The Arianna Room, Non-Smoking: This lovely room has 2 full sized beds with fancy new head boards,and has the amenities for an extended stay.You will enjoy a 19" Color Cable-TV w/remote, microwave, apt-sized fridge, full-sized countertop and cupboards (for light cooking), coffee maker w/coffee supplies, picture window, new A/C, new carpet, newly remodeled bath w/tub (pictured below). Prices:

$85/night Nov/Dec/Jan/Feb/Mar
$85/night midweek, $95/night weekends April
$99/night midweek, $125/night weekends May/Oct
$109/night midweek, $125/night weekends June/Sept
$145/night midweek, $159/night weekends July/Aug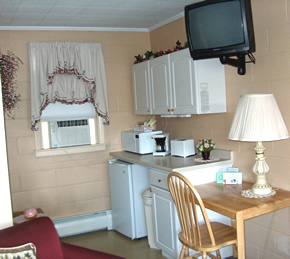 (Click Photos to Enlarge)
---
Room #4: The Diplomat, Non-Smoking: Another lovely room, that also has the amenities for an extended stay. The Diplomat has 2 cute cottage style full sized beds, microwave, sm. fridge, coffee maker w/coffee supplies, new A/C, new carpet, picture window, newly remodeled full bath w/tub, 19" Color Cable TV w/remote, table w/ 2 chairs. (pictured below). Prices:

$85/night Nov/Dec/Jan/Feb/Mar
$85/night midweek, $95/night weekends April
$99/night midweek, $125/night weekends May/Oct
$109/night midweek, $125/night weekends June/Sept
$145/night midweek, $159/night weekends July/Aug

(Click Photo to Enlarge)
---
Room #5: The Raspberry Room, Non-Smoking: This room reflects a "taste of Maine" with its pine head boards,and newly furnished pine furniture. The Raspberry room has a pretty raspberry colored carpet, 2 full sized beds, 19" Color Cable w/remote TV (mounted on the wall for the best TV viewing), pine table w/chairs, picture window, micro/fridge, coffee maker w/coffee supplies, new A/C, newly remodeled bath w/tub. (pictured below). Prices:

$85/night Nov/Dec/Jan/Feb/Mar
$85/night midweek, $95/night weekends April
$99/night midweek, $125/night weekends May/Oct
$109/night midweek, $125/night weekends June/Sept
$145/night midweek, $159/night weekends July/Aug

(Click Photos to Enlarge)
---
Room #6: The Blueberry Room, Non-Smoking: Anyone visiting Maine will love this room as this is Alyssas favorite! Another newly furnished room with a nice new medium blue carpet, 2 full sized beds, 19" Color Cable TV w/remote, table w/2 chairs, coffee maker w/coffee supplies, new A/C, picture window, newly remodelled bath w/tub (pictured below). Prices:

$85/night Nov/Dec/Jan/Feb/Mar
$85/night midweek, $95/night weekends April
$99/night midweek, $125/night weekends May/Oct
$109/night midweek, $125/night weekends June/Sept
$145/night midweek, $159/night weekends July/Aug

(Click Photo to Enlarge)
---
Room #7: The Ambassador Room, Non-Smoking: Our executive room, with 1 King-sized brass bed (optional interior door adjoins with Room #8 for possible suite!) Also in this room are matching brass lamps, new A/C, new carpet, 20" Color Cable TV w/remote, pine table w/2 chairs, coffee maker w/coffee supplies, micro/fridge, picture window, newly remodelled full bath w/tub (pictured below). Prices:

$85/night Nov/Dec/Jan/Feb/Mar
$85/night midweek, $95/night weekends April
$99/night midweek, $125/night weekends May/Oct
$109/night midweek, $125/night weekends June/Sept
$145/night midweek, $159/night weekends July/Aug

(Click Photo to Enlarge)
---
Room # 8: The Princess Room, Non-Smoking: Enjoy your stay with us in the Princess Room! (optional interior door adjoins with Room #7, for possible suite!) This room has 2 elevated full sized beds (for the princess look) , new A/C, new carpet, 19" Color Cable TV w/remote, table w/2 chairs, coffee maker w/coffee supplies, picture window, newly remodelled full bath w/tub (pictured below). Prices:

$85/night Nov/Dec/Jan/Feb/Mar
$85/night midweek, $95/night weekends April
$99/night midweek, $125/night weekends May/Oct
$109/night midweek, $125/night weekends June/Sept
$145/night midweek, $159/night weekends July/Aug

(Click Photo to Enlarge)
---
Room #9: Alyssas Family Suite, Non-Smoking: Our most private vacation unit nestled in amongst the trees, this suite has it all! The Family Suite is the size of an apartment and has plenty of space for a family that wants spacious lodging in the Sebago Lakes area. This suite has 2 large bedrooms, 1 with a King-sized bed , wall-mounted TV w/remote, 2 comfy chairs w/sm. table between them, large closet, ceiling fan, bar sink, micro/fridge, coffee maker w/coffee supplies, private entrance, and adjoining is another large bedroom consisting of a Queen-sized bed and an extra long twin bed (made up as a couch, so this can be used either way) A/C, another 19" Color Cable TV w/remote, table w/2 chairs, full bath w/tub, picture window, and another private entrance. The Family Suite is the furthest from the road, adjacent to our wooded area, and closest unit to the picnic table! (suite pictured below). Prices:

$135/night midweek, $160 weekends April
$175/night midweek, $199/night weekends May/Oct
$209/night midweek, $235/night weekends June/Sept
$250/night midweek, $270/night weekends July/Aug
(Not available Nov-April, except Fishing Derby)

(Click Photos to Enlarge)